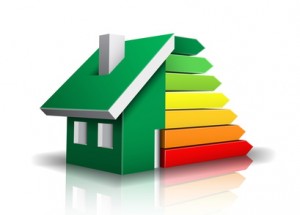 Everyone these days is looking for ways to save money and what better place to begin than in your home. By spending a little time following this simple advice, you can save quite a bit of money over the next few years by making your home more energy efficient.
General Improvements
It is amazing how much money and energy a homeowner can save just by repairing and adjusting a few small things around the home. Begin by walking around the inside your house during daylight hours, looking for any holes or cracks in the walls, ceiling, or floor. Anywhere you can see sunlight coming through, energy is escaping. Once you find these energy wasters, invest in some inexpensive caulking. If you have a deep or large hole or crack, use a foam backer rod, then cover and seal with caulk.
Windows are another place where cool or hot air can be lost. Use weather-stripping to fill spaces around these areas. If you have windows that are seldom or never used, consider placing rope caulking around them. This type of caulking makes an excellent seal and is easily removed without problems when needed. Weather-stripping can also be used around attic hatches or pull-down stairways and comes in strips of rubber, metal, felt or plastic. Inside the attic, check to see if there are any spots in the insulation that appears dirty. Dirty insulation is a sign that air is leaking into and out of the house and will need to be caulked. After completing the attic, caulk around any ceiling fixtures and wiring holes. It is best to seal from inside the home to keep moisture and air movement from accumulating in the wall and ceiling cavities.
Saving on Plumbing Expenses
Check plumbing in the kitchen and bath that may need repairs. These areas need to be vapor sealed with insulation and securely taped. Be sure to use mastic or ul-approved duct sealing tape to make the repairs. Regular duct tape will not hold over time and will have to quickly be replaced. Check your state energy office for the correct insulation to use. If these areas are already insulated, look for gaps or escaping air at the joints that may need to be resealed.
Cut Down on Heating and Cooling Costs
Maintaining and repairing your heating and cooling unit and ducts when needed will maximize cooling efficiency in the home, thus reduce energy loss. Each season, clean your unit by spraying water full-force in the outdoor condenser to remove dirt, leaves, grass, etc. Also free any obstructions you might see.
To keep your unit consuming the least energy possible, remember these tips in the summer:
Keep lids on pans when simmering or boiling for long periods
Use small appliances such as a toaster or microwave instead of the oven
Cook outdoors with the grill (when feasible)
Shut shades, drapes or curtains on the sunny side of the house
Keep thermostat at 78 degrees and 83 to 88 degrees when away from home
Change the air filter once a month to keep your unit running at full efficiency
Installing ceiling fans and using them throughout the year can help to save energy and money. In the summer, set the fans to blow air downward to help cool the house more efficiently. In the winter, the fans will need to blow the air upward to re-circulate hot air, causing an increase the room temperature.
If you have a fireplace, keep the glass doors shut and close the damper in the winter to keep heat inside when not in use. Close curtains or drapes and shades at night and open them during the day on the sunny side of the house to let the sun heat the home.
Plant a Shade Tree
Planting high growing trees that have spreading tops along the south side of your home can provide a nice shade during the summer months, helping to cut down on cooling costs. Trees with lower crowns are most helpful if planted along the west side where shade is needed to shield the sun that has dropped lower in the afternoon. Evergreen trees can be planted anywhere on the north or northwest side of the home to help create a windbreak in the cold winter months.
Do Some Spring Cleaning
There are several ways to make your appliances more energy efficient just by doing a little spring-cleaning. Your refrigerator will run much more efficiently if you periodically vacuum the grates on the front and clean under and behind it. Once a month, add a cup of bleach to your washer then run an empty load to clear away any debris that could be slowing down the cleaning process. Doing so will also keep odors from lingering in the washer. Every few months you should vacuum leftover lint from the back compartments of the dryer, the lint tray, and the vent. Always unplug or turn off the gas to the unit first. If your home has sliding glass doors, be sure to wash the tracks to keep debris from forming. Dirt buildup can cause damage to the door seal, creating gaps that can allow cool air to escape. Even light bulbs and light fixtures should be occasionally dusted to ensure you are getting the most light for your money.
Look for Energy Efficient Appliances
Do you need to replace your refrigerator, washer, dryer, or air conditioner? If so, be sure the new appliance has an Energy Star label. This symbol means the product has been tested and certified energy efficient and uses anywhere from 20 to 30 percent less energy than other models.
There are a million small ways to save money and energy every day. Some changes are one-time investments while others are periodic tasks. Simply performing routine maintenance and being vigilant about daily energy consumption can quickly put you on the right track to becoming more energy efficient which will save you money in the long run.